Charcoal Drawing: "Heaven Gains Another Angel"
ERRATA: This piece has a major error in its wording - "It's About Time" is by John Denver, NOT by Simon & Garfunkel.

The last piece of the latest batch, this is my first experiment with large amounts of shading - and anything as dark (shading-wise, not necessarily emotion-wise) as this.

When I heard the line "there's a light in the Vatican window" in the aforementioned John Denver song, thoughts of Pope John Paul II were immediate. While I'm almost sure the song predates John Paul's death, such connections in thought - in the future - are almost inevitable.

Whereas my oft-used pattern for sketching the Sun is to have it with a bold, chibi-eyed face, I think my pattern for the Moon - shown here - will be a bit different. The Sun - with its great light - destroys shadow (although it does tend to help in casting them, too). The Moon, however, lives in shadow (since it's most prominent at night - I may give it a heavier face if I ever draw a "day moon") - and therefore, has a feathered, ephemeral face.

(While I normally wouldn't put something like a charcoal drawing in true-color mode - as it increases the size [or required compression] dramatically [before compression, by a factor of 3] - the color ballpoint script for the quotation necessitated it.)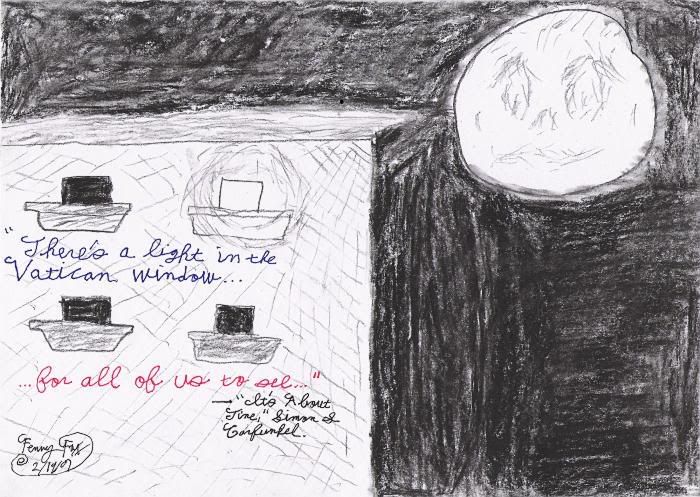 Click the above preview for the full-sized work (2202x1562, 980KB true-color JPEG).
Gratis image hosting provided by Photobucket.